advertisement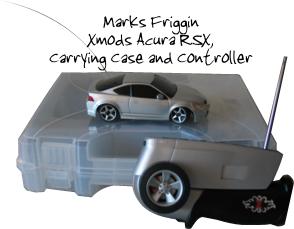 MarksFriggin Review of Xmods RC Car - 1/5/2004
Yes, I'm an old man. I like toys though. One day I stumbled across this new radio controlled car series that Radio Shack had just come out with called Xmods. They're 1/28th scale cars that look pretty nice for the money ($49.99 at the time). The car comes ready to modify with removable wheels and tires and a working suspension. The controller is included as well. I jokingly told a friend of mine that we should get them to race around the neighborhood. A few weeks later, right before Christmas, I got one as a gift from him. Once I started to put it together I figured I needed someone to race against so I ran out to Radio Shack and bought him one as well.

Xmods are available in 4 different models. An Acura RSX in silver, Nissan Skyline GTR in yellow, Honda Civic in black or blue and a Toyota Supra in white or red. I got the silver Acura RSX, my friend ended up with a yellow Nissan Skyline GTR. We started racing them around the hallways in our homes within a couple of days. They're small enough to run them inside on a fairly smooth surface. With fresh batteries they haul ass. We were able to slide the little cars around and do mini-burnouts without marking up the floors. We had some good racing going on in a very small space. Unfortunately, we ended up smacking the cars into the walls and into each other. Surprisingly there was little damage done to the cars or the walls. I don't know how many times I smashed my car into a wall or an immovable object but the car has just suffered some paint damage. Nothing has broken off the car!

The ''Mods'' part of the Xmods name refers to the modifications that you can do to these cars. They're not the toys they appear to be. You can upgrade motors, suspension, wheels, tires, body kits, lights and more. They even have a kit to convert the cars into 4 wheel drive! Pretty impressive for a $50 radio controlled car. The mods are reasonably priced too. The 4 wheel drive kit is only $14.99. A four motor upgrade kit with new gears is only $12.99 for Stage 1 and $15.99 for Stage 2. I haven't gone that far with this thing yet. It's fast enough as it is racing it around my small townhouse. I have upgraded tires just for the hell of it though. I also put in some custom made (by me) bushings in the rear suspension to give it less travel. I'm sure there's more to come in the future. I've seen aftermarket companies creating things like carbon fiber driveshafts, aluminum spinner wheels and other little bits and pieces for these cars.

My friend is talking about building a track that we could fold up and store somewhere, maybe in the garage. I think I'm going to paint my car but I'm afraid that I'm going to be scuffing up the paint again. Maybe I'll just paint it and leave it on display. They look cool just sitting there doing nothing... but then I'd have to buy another one to race around the house. Maybe I'll just leave it alone for now.

For more information visit...
---
More MarksFriggin.com...
| Home | Show Rundown | Search | Site Map | Links | Plugs |
| E-Mail Mark |
---
Copyright © 1996-2006 Mark Mercer / Hosted by Wave2Wave
---