MarksFriggin Review of SIRIUS Starmate Replay ST2 Tuner - 12/01/2005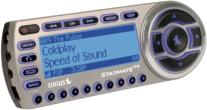 Okay, so I already had three SIRIUS tuners in my home. One is in the house, the other two are in my family's two vehicles. I didn't need another tuner but so many people were asking for my advice on what to buy, I figured I needed to test out some other units to give a fair comparison. Luckily someone over at SIRIUS came through with a couple of review units for me to test out. Nice!
Instant Replay

The SIRIUS Starmate Replay is one unit that I was really looking forward to testing. That's why I'm actually starting this review just a couple of hours after it was delivered to my house. As it's name implies, you can ''replay'' what you've just listened to on your tuner, kind of like a TiVo or other types of DVRs (Digital Video Recorder) work. Let's say you've been listening to Howard Stern for 15 minutes and you get a phone call. You push a ''pause'' button on the tuner and when you come back, you hit play and you start listening where you left off.
This feature also allows you to rewind and fast forward through up to 44 minutes of stored content. Just think, you could turn on your tuner at 6am, sleep until 6:44am and pick up the Stern Show from the start and then fast forward through the commercials.
Of course this feature works with the music stations as well so you could also replay your favorite songs. Press and hold the Play/Pause button and you get a list of the songs that are stored in memory so you can easily find the content you want. I'm impressed!
Jump / FM Preset Buttons

The Starmate Replay has some other new features that my older tuners didn't have. This unit has a ''Jump'' button which allows you to flip-flop between the station you're listening to and another favorite station you set up. That's great for switching to a Traffic / Weather channel during a song you don't like or maybe during a commercial break on one of the talk stations. The unit is so smart that you can specify a traffic report for a specific city and it will wait, up to 4 minutes, for the correct traffic report to start before switching.
Another useful new feature is the FM Preset Button. It doesn't seem all that important until you drive long distances. Most, if not all, of the portable SIRIUS tuners have a built in FM transmitter that broadcasts the tuner's signal through your vehicle's FM radio on a frequency that doesn't have a strong signal on it. The Starmate's FM Preset function lets you pick up to 5 (out of 100) different FM frequencies so you can switch from one to the next to find a clear signal to broadcast over. This would come in handy if you're driving through an area where your usual frequency is overrun by an FM station. On the older units you could change frequencies if you had to but it was a bit of a hassle. They've now made it much easier to switch.
The FM Transmitter is not only useful in your vehicle but also in the home. As some of you may have read, I purchased a small FM Transmitter (Ramsey FM25B) that allowed me to send the SIRIUS tuner signal around my home to FM radios. Well, the built in FM transmitter in the Starmate Replay allows you to do the same thing without spending an extra $170 like I did. Set up your Replay to broadcast on an empty, or weak, FM frequency and you can listen to SIRIUS around your house on any FM radio! I don't know exactly how far the signal will reach but I was able to tune in an FM radio within 40-50 feet from the Starmate Replay with a crystal clear signal.
Other Features
Here are some of the other various features on the Starmate Replay...
Game Alert - Alerts you to when your favorite NFL, NHL or NBA teams are playing or when the score changes.
Game Zone - Lists your favorite teams' scores on one screen
SIRIUS-Seek - Enhanced feature now includes alerts of up to 30 artist names and/or song title
5-line wide-screen graphic display
30 channel presets with preset scan
Satellite-updated real-time clock
The basic SIRIUS Starmate Replay ST2 kit includes:
Suction cup mount, mounting plate with cable management features and hook and loop fastener strip
Low profile car antenna
Remote control
And Finally...
In past reviews of the SIRIUS channels I complained about the audio quality on talk stations. Now that I've been listening to SIRIUS for a year I can give my updated review. The audio quality of the music stations is still great, but not quite CD quality. Some talk stations, like traffic and weather, still sound like distant AM stations being broadcast under water (low bit rate). Luckily SIRIUS is giving Howard 100 and 101 much better bit rates which means that the audio quality coming through his channels is very good.
My wife and I have both been impressed with the programming of SIRIUS' music stations and have pretty much stopped listening to FM radio all together. When we're in our cars, our SIRIUS tuners are on. The only reason we turn out FM radios on is to hear the SIRIUS content through the FM transmitters.
The SIRIUS Starmate Replay is a great looking, feature filled tuner that any Stern Fan should be happy with. Even if you're not a Stern Fan, there are over 120 channels to choose from for music, talk and sports. Go get one already!
For more information visit...
---
More MarksFriggin.com...
| Home | Show Rundown | Search | Site Map | Links | Plugs |
| E-Mail Mark |
---
Copyright © 1996-2006 Mark Mercer / Hosted by Wave2Wave
---