The following story was submitted by a fan of The Howard Stern Show who wanted to share their ''Brush with Greatness'' with others.
Submitted by: Gerry Wachovsky - 4/14/03
The story...
On Saturday, April 12th, I went to the Bally Total Fitness in Santa Ana to meet some guys from the Howard Stern Show, an event sponsored by 97.1 FM KLSX. As always, I love to go to these events, as they are what are referred to by extreme Stern fans as "brushes with greatness." I had met Gary before, but it was my first time meeting Stuttering John and Artie Lange.
I left an hour-and-a-half early so I would be one of the first in line, and I got to Santa Ana about a half-an-hour later. The Yahoo! Maps directions, however, were sub-par. There was no Bally Total Fitness at the location according the map! I was irate, so I stopped in a shopping center and asked for directions. The guy politely told me to go down one street and turn on another and it's right there, so I followed his directions and came across a Bally's Total Fitness. This, however, was the Tustin Bally's and not the Santa Ana one! I called 411 and connected with the Bally's where some girl employee told me to go down E. 1st St. and turn RIGHT on Bristol, to which I did. After I entered the city of Orange, I immediately sensed something was wrong. Cursing aloud and driving wrecklessly I called 411 again and was connected to the Bally's once again, where I was transferred about three times to someone who was familiar with driving directions. Apparently, I was supposed to turn LEFT on Bristol, not right, as that dimwit had told me. I turned around and finally found it, and showed up about forty-five minutes after the event started. Luckily, there weren't many people there and the line wasn't that long.
I just thought I'd send everyone this little story, along with the pictures of me and the crew. I also met some more contacts from 97.1 FM KLSX and informed them that I would be interning for them starting June 2, to which they welcomed me aboard. The moral of the story? Call the location first and don't rely on Yahoo! Maps. And now, for your viewing pleasure, here are the pictures:
Artie Lange, Gerry and Gary Dell'Abate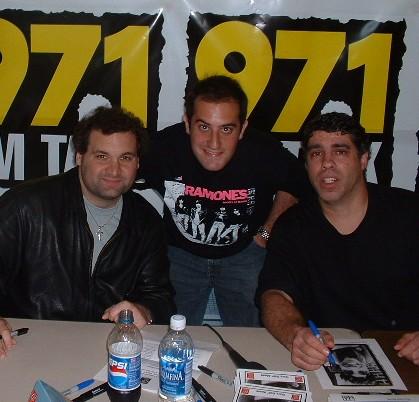 Gerry and Stuttering John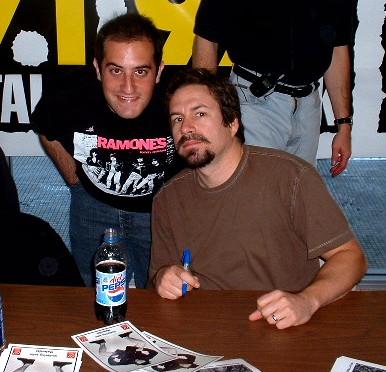 Gerry and Larry ''Melrose'' Green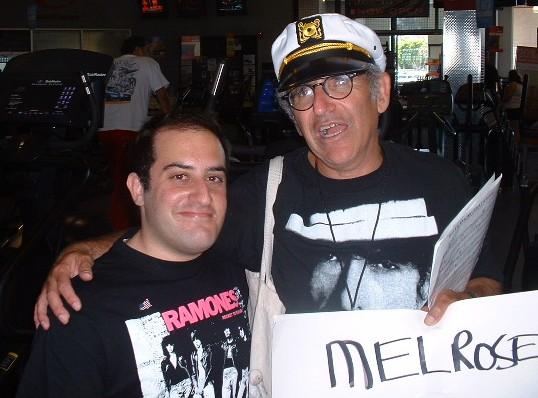 Thanks,
Gerry Wachovsky
---
Read More Brushes With Greatness
---
More MarksFriggin.com...
| Home | Show Rundown | Search | Site Map | Links | Plugs |
| E-Mail Mark |
---
Copyright © 1996-2006 Mark Mercer / Hosted by Wave2Wave
---