I met Jackie when he did his show in Reno, NV at the Hilton on June 16, 2000. We saw Jackie's show (which was really funny and a total ballbuster), and then went to play blackjack. About an hour later, Jackie comes walking thru the casino (probably to go to the bar). I held up the blackjack game and called Jackie over to the table. He was really cool and posed for a picture, which I've attached to this email. He thanked us for coming to the show and was really cool.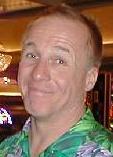 Click Joke Man's Face
For The Full Picture!