---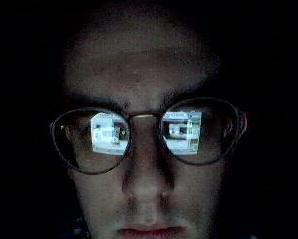 Mark hard at work (or hardly working)
on MarksFriggin.com

Click to read about the Friggin History of MarksFriggin.com
The Daily Grind
These days, October 23, 2006 as I write this, things have changed as far as how I update my site every morning. Here's what happens each morning... 5:20am my alarm clock goes off. I get my ass out of bed as quick as I can so I can shower and wake myself up. By 5:45 or so I boot up a desktop computer and my Sirius radio and FM transmitter so I can record (with Skyhawk Tech's Cybercorder) the show just in case I miss something during the morning. I then head downstairs to eat something. I boot up my laptop (that some of you helped pay for) and turn on my home stereo. Within a few minutes I sit down on my couch, with laptop in lap, and start up my HTML editor (Coffeecup Software's HTML Editor). Until 2005 I was using an HTML editor that I had been using since 1995. I figured it was time to upgrade a little bit to make my life a little easier.
For the next four to six hours or so I sit on my couch typing up the show as it's happening. During commercial breaks, which are far and few between since Howard moved to satellite, I try to get up and stretch my legs, eat, piss, etc. Each of my daily highlight templates are created ahead of time so I just have to start typing when the show starts. As each segment finishes and Howard goes to break, I try to run a spell check and clean up the text a little bit. I've noticed that I spell ''she'' and ''the'' (and many other words) wrong very often. I'm no writer, which is obvious if you've read any of my stuff. I know my grammar sucks, my spelling sucks but people keep reading. I don't know why that is but I'll keep doing it as long as people keep reading.
By the end of the show I've done all of my spell checks and edits. I compile the News page, the Index2 page and anything else that needs to be done that day. I then use my WS_FTP program to upload the pages of the site to the hosting company's (Wave2Wave) server.
Sometimes, when I get a spare moment, I'll also check some of the e-mail I get about the site. There are a lot of questions about the show that I attempt to answer. I do read and try to answer every single e-mail I get.
Once in a while I'll need to create graphics or banners for the site. I use this great program called Xara Xtreme. It's fairly easy to use, relatively inexpensive and it puts out some great looking stuff very quickly. I thought I'd throw that in there because I've been using different versions of the software since 1995 and they've never let me down.
I'm still amazed at the feedback I get about what I've been doing since I started the site. Most of it is very positive. There are a few people out there who don't like my crappy writing style but we'll do what they should do when they don't like something... ignore it... or maybe even take some of their negative comments and try to make things better.
If you do enjoy the site and want to support it, please visit the advertisers that appear on my site. Some of them are ''affiliate sites'' where I make a small commission (ranging from 2.5 to 20 percent) from sales made through click-throughs from my site. Other's pay for their banners monthly and would like to see some traffic or sales coming from my site. When purchasing from an affiliate like Amazon.com it's best to click through to the site, pick you item and place the order without leaving their site. If you do, they won't recognize it as coming from my site and won't credit me for the sale.
If you don't want to purchase anything online, you can also contribute directly to me. Just shoot me an e-mail and ask how.
I'd like to thank the many people who have supported the site over the years. Here are just a few of those people who have helped make all of this possible: The Howard Stern Show and fans of the show, Chris Grosso (without him, this site wouldn't have gotten off the ground), my wife Jennifer (who puts up with this shit every day), Reverend Bob Levy, Sam Simon, George P. from Wave2Wave, Jim Florentine, Lisa Lampanelli, Jesse Erlbaum (helped come up with the MarksFriggin.com name and hooked me up with free hosting for 5 years!), Craig Gass, Doug Goodstein, Greg Fitzsimmons, every company or person who has advertised on the site, every fan who has contributed a dollar or more or even purchased something through an advertiser... and everyone who has visited the site. Thank you all!
---
More MarksFriggin.com...
| Home | News | Search | Site Map | TV Shows | Links | Stations | Phone Book | Plugs | FAQ's | Who's Who |
| E-Mail Mark |
---